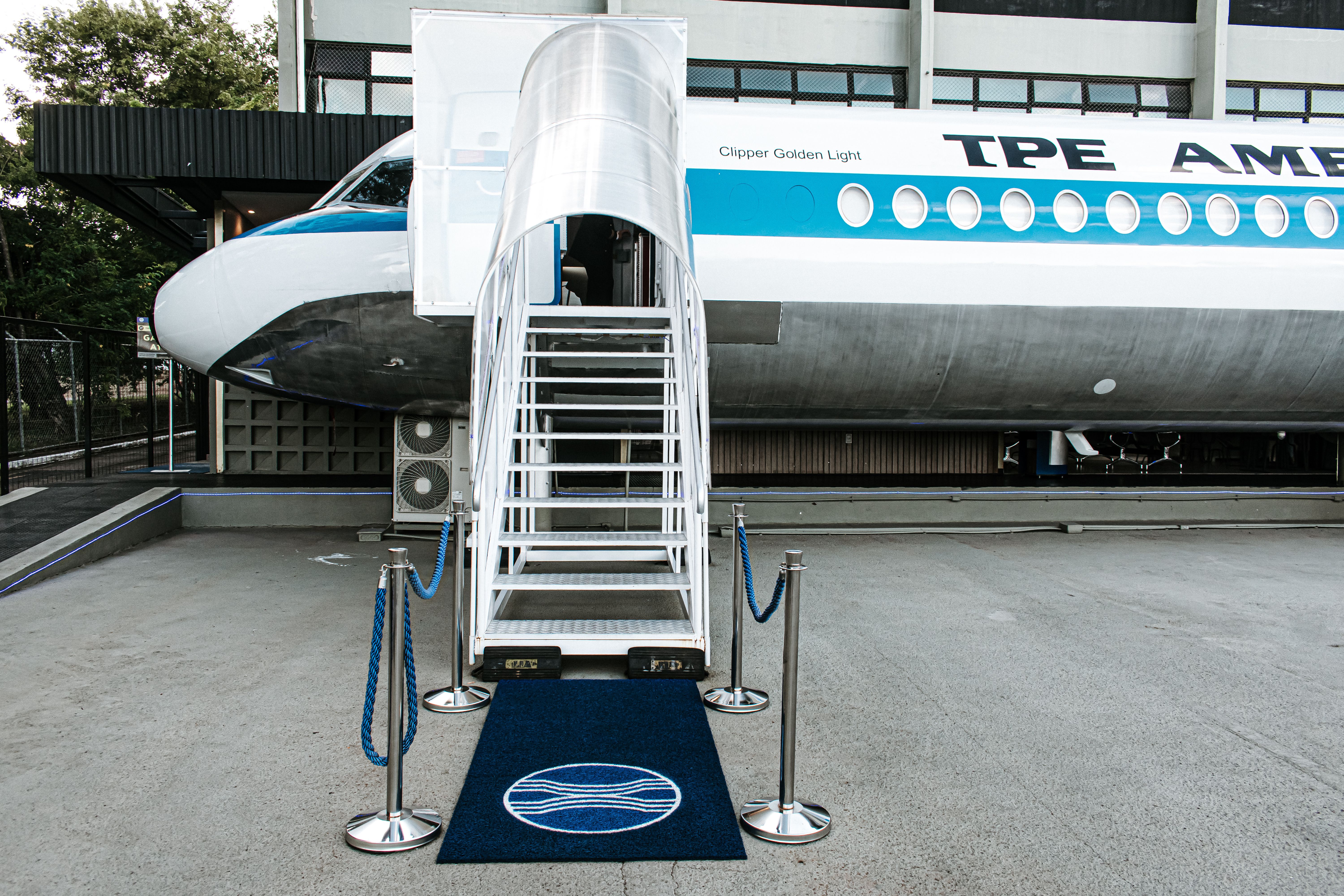 You can fly a Fokker 100 in 2022 without leaving the ground
Remember what it was like to fly first class in the early days of aviation? Some would even call it the "golden age" when great meals were served to all passengers, smoking was allowed on board and flying sometimes became an in-flight party.
Perhaps you are reading this and, like me, have never experienced this side of flying. I have never experienced a flight on Pan American World Airways (PanAm), Trans World Airlines (TWA), or any of the other airlines mentioned along with these historic airlines. But a few weeks ago I was able to get a little taste of what it was like to fly PanAm First Class back then.
On April 8th I flew on board flight PA036 from Brasilia to Madrid, but the plane never left the ground. You're probably wondering why on earth am I writing a flight report on a flight that never left the ground. That's because the flight took place at The Plane Experience in Brasilia, a sensory experience that combines aviation and cuisine with a 4-course meal on a historic Fokker 100.
What is the Airplane Experience? A quick overview
Located in Brasilia, Brazil, The Plane Experience is aboard a Fokker 100 that was involved in an incident at Brasilia Airport (BSB) in 2014. The plane landed without front landing gear and remained parked at the airport for years. In September 2020, the plane that formerly flew for Avianca Brasil was donated to what is now known as The Plane Experience. The Fokker was parked behind a church and completely rebuilt so that it could "fly" again.
Read here: The History of the Airplane Experience
Before the flight
Ticketing – The Plane Experience has two flights per week, one on Fridays and one on Saturdays. Booking is possible on The Plane Experience website. The experience offers two classes, First and Economy. The ticket price for First Class is around $42 and for Economy Class around $23 (prices are based on the current exchange rate).
The Plane Experience"' data-modal-id="single-image-modal" data-modal-container-id="single-image-modal-container" data-img-caption='""'>
Check in – Flight check-in opens at 7:30 PM at the Clipper Golden Light Terminal. At the check-in counter, I was greeted by The Plane Experience crew in PanAm-inspired uniforms. There are two lines at check-in, one for First Class and one for Economy. I gave the check-in clerk my first and last name and then got my boarding pass.
gate area – After checking in, I was taken to the first class lounge where the passengers were served wine, champagne and some finger food before boarding the plane. Economy class passengers waited in the gate area, which housed a café called Dumont Coffee, inspired by the great aviation pioneer Santos Dumont.
First class customers wait in a lounge with food and drinks before boarding the aircraft. Photo: Luke Souza | Easy flying
Get in – At the time of boarding, an announcement was made over the terminal loudspeakers informing passengers that it was time to board our flight to Madrid. We walked to a flight of stairs at the door of the plane and boarded, where we were immediately greeted by more crew. I quickly found my seat 1B and settled in for the two hour flight to Madrid. The seats in The Plane Experience's first-class cabin belonged to an old Boeing 767 that had flown for the defunct Brazilian airline TransBrasil.
We were served champagne and peanuts before the pushback and safety demonstration and this was just a small taste of what was to come.
Pre-flight service at the gate. Photo: Luke Souza | Easy flying
safety demonstration – As the flight was pushed back from the gate (okay I know the plane never left the ground but the TV screens showed the plane pushing back and it seemed so real) the crew conducted a safety demonstration using real emergency kits from airplanes through which are no longer in service. Then the pilot made the announcement from the cockpit that many of us have heard countless times: "prepare for takeoff".
Ricardo Espindola, co-founder and owner of The Plane Experience, also serves as a crew member on The Plane Experience flights. Photo: Luke Souza | Easy flying
In the air
Wireless Internet access ­– Once the plane reached 10,000 feet, WiFi was turned on and customers could sign up for free. The WiFi was handy because we could share our incredible experience in real time.
food service – The meal service began shortly after take-off, and the crew first distributed the menus for the flight. Each month, The Plane Experience changes destinations and menu. The destination in April was Madrid and Spanish dishes were on the menu.
First class menus were titled The President's Special, also inspired by PanAm. Along with the menus we were given a safety card detailing the Fokker safety procedures, a first class amenity kit, a blanket and a hot towel to clean our hands. The towel belonged to Varig when the airline was in action.
Drinks service followed quickly. Options included champagne, wine, water, coffee, juice and soda. I chose grape juice because I don't drink alcohol. The glasses in which the drinks were served also belonged to Varig, one of Brazil's largest and most well-known airlines.
The drinks came right after that amuse-bouche, appetizers to be eaten in one bite. The appetizers included, bruschetta, coliflor empanada (breaded cauliflower) and Brochura de bacon and ciruela (plum and bacon skewers).
Photo: Luke Souza | Easy flying
We were offered two first class appetizers, Gazpacho soup (a soup traditionally made with raw mixed vegetables) served hot, and Panzanella (Tomato salad with breadcrumbs in olive oil, served Tuscan style). Up to this point I had thoroughly enjoyed everything with the Panzanella to be my favorite food.
Photo: Luke Souza | Easy flying
There were two different main courses and we were asked to place our order at the time of booking the flight. The first main course option was paella marinera (Spanish Seafood Paella), and the second was Tortilla Espanhola de enchidos y curados (Spanish tortilla with cured meat).
I chose the tortilla and it was absolutely amazing! In fact, as I write this article, I am getting hungry and would love to have one of these plates right now.
Photo: Luke Souza | Easy flying
We also got two options for dessert, Arroz with leche and churros with chocolate (rice pudding and churros with chocolate), or fruit (Fruit). I chose that Arroz with leche and churros with chocolate, because I love both churros and arroz con leche. By this point I had eaten so much that I was having a hard time finishing my dessert, even though it tasted delicious. We were also offered coffee which was served in little cups made out of waffle batter, just like waffle ice cream cones.
landing – As we approached Madrid, the pilot made an announcement that we would begin our final descent and that the crew would come through the cabin to collect any remaining service items. We were asked to return our seats to the upright position, stow our tray tables and fasten our seat belts in preparation for landing. The pilots made a very smooth landing and two hours had passed and we had arrived in Madrid.
aircraft interior
The Fokker 100 is configured in a two-cabin layout and Economy Class has seats that are original to the Fokker 100. The aircraft also has two galleys, a forward galley and a mid-cabin galley. There are two toilets in the rear of the aircraft. Both toilets are located next to two jump seats and function like toilets on an aircraft that is still in service. There are signs outside the toilets that light up when they are occupied.
The Plane Experience's Fokker 100 aircraft is steeped in history. The plane itself flew for Avianca Brasil, and all of the plane's equipment belonged to planes that were in service at one point in time. The glasses and cutlery belonged to Varig, the first class seats to a TransBrasil 767, the economy seats and overhead bins to the Fokker itself, and service vans to Avianca, TAM, Cathay Pacific and VASP.
Final Thoughts
The Plane Experience isn't just an experience for AvGeeks, it's an experience for everyone. I mean who doesn't like to eat? I had an amazing time at The Plane Experience and wish I could come back every month as the goals and menus change. The goal for the month of May is London, my favorite city. The food was amazing, the staff was extremely friendly, and perhaps the coolest thing of all was knowing all the history contained within the Fokker 100's cabin.
I recommend anyone traveling in Brazil to take a trip to Brasilia (the capital of Brazil) to visit The Plane Experience.
Four other airlines are facing temporary flight bans in China
continue reading
About the author