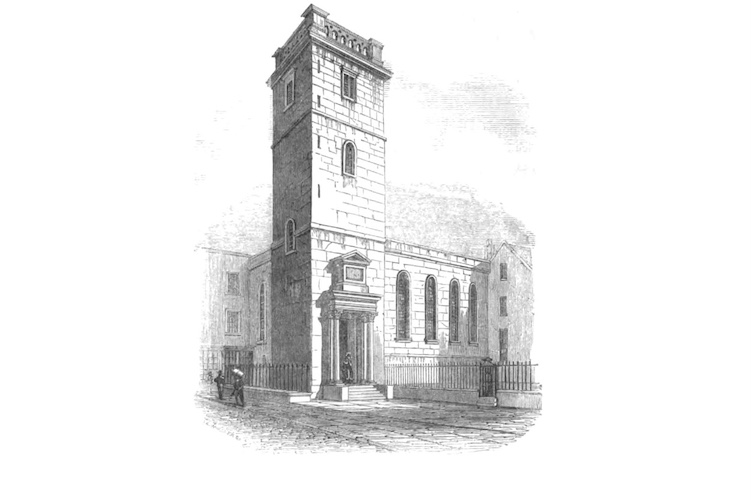 Vic Keegan's Lost London 272: All Hallows – a hidden church in the heart of the city
All Hallows survived in various forms in the financial center for nine centuries before being partially transplanted to Twickenham
The City of London prides itself on the peaceful coexistence of God and mammon. Dozens of churches have survived in one of the world's most concentrated areas dedicated to the worship of money. The most poignant example is the intersection of two of the city's most famous streets. One of these is Gracechurch Street, the name of which derives from the preceding ones including: according to A Survey of London (1603) "because the market of Grasse went under like that". The other is Lombard Street, named after Italian financiers from Lombardy who established goldsmith shops there in 1318, the forerunners of modern banks.
One of the most famous of these banks was Barclays, which for many years owned most of the land where the two streets met as its headquarters. This manifestation of mammon almost suffocated the All Hallows Church – not to be confused with the All Hallows of London Wall – which can trace its origins to Christian worship at this site since 1053. But although obscured it retained its presence for centuries, being rebuilt twice and containing a stone porch which, according to Henry VIII, came from the Priory of St John of Jerusalem in Clerkenwell dissolved the monasteries In the 16th century.
It did not escape the great fire of 1966, which completely destroyed the church. But 20 years later a completely new one was built on the same spot (main image) by Christopher Wren, although it couldn't be seen from the street. In the 1830s, George Godwin, founder of the influential The Builder magazine, observed that All Hallows was so constrained by other buildings that 'it is difficult to discover even when searched for; it was consequently called 'the invisible church'."
It is now completely invisible in its original location as it is no longer there. In 1939 it was demolished but Wren's tower and porch survived, were dismantled and taken stone by stone to Twickenham to form a part another brand new All Hallows, which is close to the famous rugby stadium there (see below). It also contains the pews and pulpit from the town and a stunning altarpiece which is very likely the work of the eminent carver Grinning gibbonor his studio.
All Hallows was not the only London church to be demolished and rebuilt elsewhere. St Andrew's north of Oxford Street was moved 10 miles to Kingsbury, and St Mary, Aldermanbury went as far as Fulton, Missouri. Others, like Christchurch Greyfriars and The Lovely St Dunstan to the easthave survived as iconic public spaces on land worth many millions at today's prices.
The miracle is that so many churches have survived at a time of rising property prices. Most of them are still active, but you don't have to be religious to admire the architecture and buried history in each and every one of them. The New Testament may be right about serving God and mammon, but the City of London seems to have found an acceptable compromise.
All previous parts of Vic Keegan's Lost London can be found here and a book containing many of them is available for purchase here. Keep following Vic Twitter.
On London strives to offer more of the kind of journalism the capital city needs. Become a supporter for £5 a month or £50 a year and receive an action-packed weekly newsletter and free entry to online events. details here.
Related