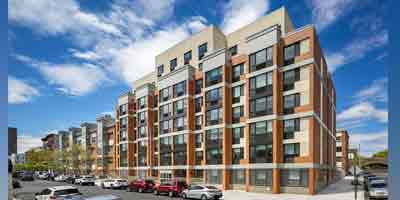 The Manhattan company's design honors the memory of the popular church building
RKTB Architects' design for a new sustainable supportive housing project for homeless and low-income seniors pays homage to the former site of the beloved Our Lady of Loreto Catholic Church in Brooklyn, New York.
RKTB Architects, PC, partnered with non-profit developer and operator Catholic Charities of Brooklyn & Queens to create the 7,710 m2 (83,000 sf) energy efficient, eco-friendly, eight-story multi-family home named Pope Francis Apartments.
The residence's green design strategies include a rooftop solar energy array to reduce reliance on electricity from the grid, a high-performance building envelope aligned with thermal efficiency goals, water-saving and LED lights, and low-energy materials and finishes no VOC content . This makes it compliant with the Enterprise Green Communities Criteria, a comprehensive green building framework specifically designed for affordable housing.
The project team also endeavored to treat the site with sensitivity to the community, which felt deeply at the loss of the locally beloved church. In doing so, RKTB worked closely with the Catholic Charities of Brooklyn and Queens to be sensitive to a sacred site and to bring in and highlight those elements that serve and strengthen the community.
"After the Diocese of Brooklyn closed the church in 2009, people rallied behind various efforts to save her," said Nelson Vega, associate principal at RKTB and one of the project leaders. "We considered it part of our mission to transform the site in a way that would make the community healthy."
At the request of the diocese, there are two common rooms on the ground floor, one for the residents of the building and one for the larger community. The design also features aesthetic choices aimed at restoring and enhancing neighborhood pride. The building's facade is segmented, referencing the adjacent Baretta Apartments (also designed by RKTB), using a similar palette of materials to create a unity that fits into the architectural context of the block. Mural-size photographs of Our Lady of Loreto adorn the side of the building at street level and in the lobby, while the large statue of Our Lady that previously stood at the church entrance has been preserved and restored to the spot.