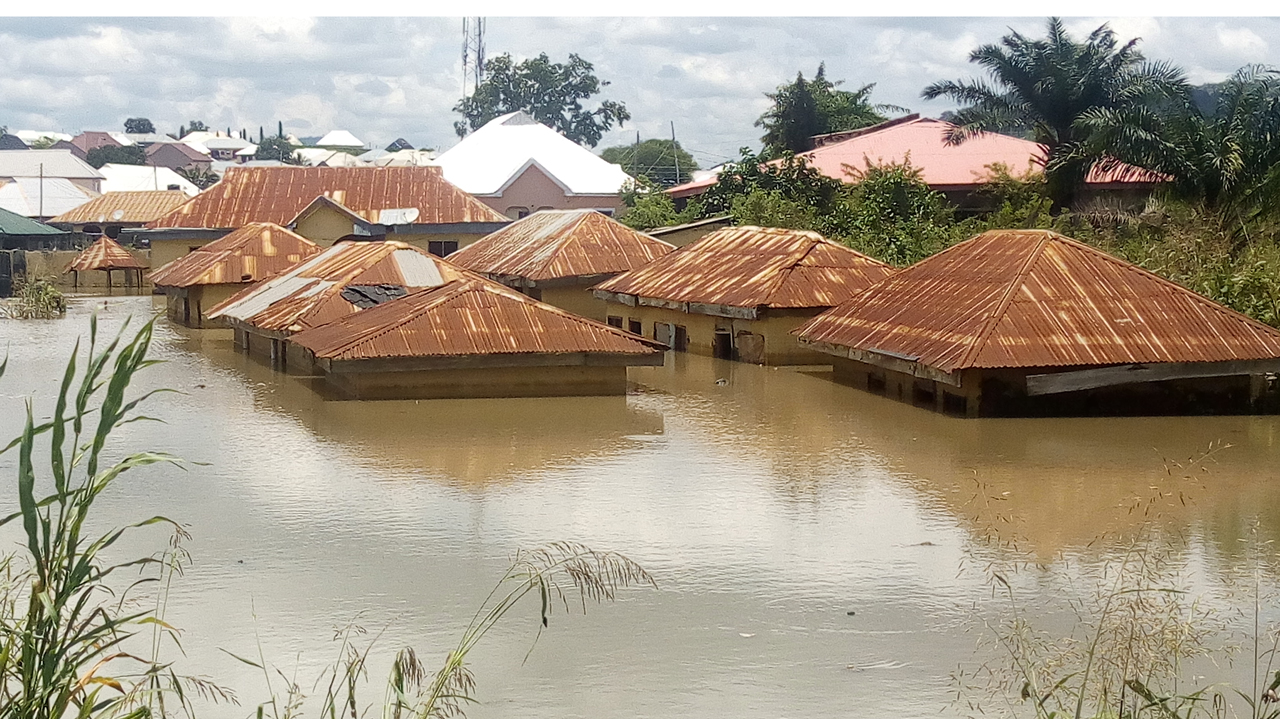 Submerged houses in Kogi, Benue As Rivers Surge
No fewer than 500 homes and properties worth millions of naira were inundated yesterday in parts of Kogi State's capital, Lokoja, by overnight flooding.
Residents of the community of Adankolo and other neighboring communities woke up to see their homes submerged as a result of the overflow of the Niger River.
As LEADERSHIP visited the Agbayi neighborhood and other communities off Ganaja Road, victims were seen trying to evacuate their belongings from the submerged homes.
A 65-year-old woman, Nana Amina, condemned the government's attitude towards the victims.
"Nobody should come here and film my properties. In the same way, during the last flood, some people came and took pictures of our homes and raised money without contacting us," she said.
However, she asked the government to come to their aid as they have no place to store their belongings.
Tricycle (keke napep) drivers were seen removing properties from the flooded homes as people resorted to canoes to get to their homes.
Worship centers were not left out as over 20 churches and mosques were affected. Affected worship centers have been abandoned and some are already using makeshift centers.
Residents and victims called on government authorities to come to their rescue.
Aminu Suleiman said; "It's a very bad situation. I am planning to move my property to my friend's house to see if I can get along with them if they can give me a room to stay."
Another victim, Mohammed Adamu, said they did not expect the flooding as it came as a surprise to them. He said; "It hasn't been easy for all of us in this area, it's a mess, we didn't experience anything like this last year but this year we packed our bags and we're tired. We want the government to do something to get us out of this situation."
State Commissioner for Environment and Natural Resources, Hon. Victor Omofaiye, said government efforts to mitigate the effects of the floods had brought the desired results.
He said; "We have activities that are segmented and the first segment has to do with awareness and running awareness campaigns. We've circled the flood-prone areas to tell people to move to higher ground after an incident, but it's quite unfortunate that some people won't move and will tell you they can't move from their ancestral homes ."
Omofaiye added; "Some people purposely build houses on the waterways or on the banks of the river, without caring about the dangers of blocking the waterways."
The Commissioner claimed that several camps for IDPs had been made available, while hostels for thousands of people had been prepared, but most of the victims would not use the camps even though sufficient precautions had been taken to ensure their safety.
He added that the government will stop at nothing to continue protecting the lives and property of residents and citizens. He said a project, although not yet complete, is reducing the impact of the flood.
In Benue, some residents of the state capital Makurdi fled to safety yesterday after an unprecedented surge in the Benue River flooded several homes and left thousands of residents homeless, destroying billions of naira's worth of property.
The flood, which began a week ago, was observed flooding over 500 homes, markets, places of worship and farmland.
Our correspondent observed that people residing on the river bank, Gboko Street, Rice Mill and Awe Street, among others, left the areas as the river bank was already inundated with water that was believed to be it came from the Lagdo Dam in Cameroon.
Other communities affected include Wurukum, Reismühle, Kucha Otebe, Gyado Villa, Wurukum Abattoir, Judges' Quarters and the Redeemed Christian Church of God Headquarters in Makurdi.
The Commissioner for Water Resources and Environment, Dr. Godwin Oyiwona, announced that the water level rise was 9 meters, roughly equivalent to what happened in 2012 when the level was 11.1 meters and catastrophic.
The commissioner called on residents staying in flood-prone areas to move to safer places, adding that the water level is rising due to the rise in the water level of the dam in Cameroon.
The Executive Secretary of the State Emergency Management Agency (SEMA), Dr. Emmanuel Shior also appealed to those living in flood-prone areas to move to safer places.
Shior said plans are already in place to source bedding, sheets and mosquito nets, among other things, to help the displaced, although he said they were closely monitoring flood-prone areas.