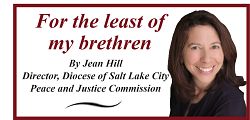 Reflect on Christ's message of love during Advent
Friday, December 3rd, 2021
As followers of Jesus, we will spend the next few weeks preparing for the coming of a radical, countercultural Savior. Born into poverty, the King of Kings never experienced what secular society then and now still calls "royalty". He never lived in luxury, he never ruled by the sword, he never preferred the rich and powerful to the poor. Jesus did not win followers by accumulating wealth or by denigrating or marginalizing those who opposed him. He won his followers, our predecessors, by sharing a message of love for neighbor and for God and demonstrating through his actions to dine with the outcast and ceaselessly care for those who prefer to throw away his and our society.
Following the example of Jesus and standing by those who have no value in contemporary culture did not make Catholicism very popular in the United States. Ever since the country was founded, we Catholics have always been viewed as antagonists of America's economic and cultural fabric – we say goodbye to the gospel of prosperity that pervades so many American religions and refuse to worship the mighty dollar that flows through our secular culture, hear on the teachings of the Popes a continent away. But our voice, no matter how unpopular it is, matters a lot.
It is our Catholic voice that reminds our leaders of the great responsibility that comes with great wealth. It is our voice that reminds our communities that all human life has value. It is our voice calling for an economy that encourages all people, not one that thrives on the backs of underpaid and devalued workers. It is our testimony to the love of Jesus serving the undocumented, the homeless, the victims of sex or labor trafficking, the refugees, the prisoners, the sick, the addicts, the abused, and everyone in between.
Being a voice for the least favored is not without its challenges. We are mocked and labeled as "socialists", "un-American" and even worse by those who discredit, politicize or simply do not want to understand our church.
Admittedly, some labels also have a bit of truth. We are "socialists" in the sense that we criticize unrestricted capitalism, which puts profit above people. We are "un-American" in the sense that our church is a universal belief system and is therefore not committed to the culture or politics of any single country. Most worryingly, however, there is no labeling, and that is the trend that such efforts to apply political ideologies to our beliefs show. Catholicism addresses political issues, but unlike party politics, it is really a big tent with room for all of us, even if we personally struggle with some aspects of church doctrine or practice or do not fit into the prevailing culture.
Let us remember the roots of our faith in this Advent season – a Savior, born in poverty, crucified because he spoke out against the ruling powers and the powerless, a centuries-old tradition that is permeated with the evangelical truth of unconditional love, the Jesus embodied, a promise of eternal life for even the most unworthy of those who seek Him – and don't be afraid to exercise our faith through our strong, universal Catholic voice.
Jean Hill is director of the Office for Life, Justice and Peace for the Diocese of Salt Lake City. Contact them at [email protected]