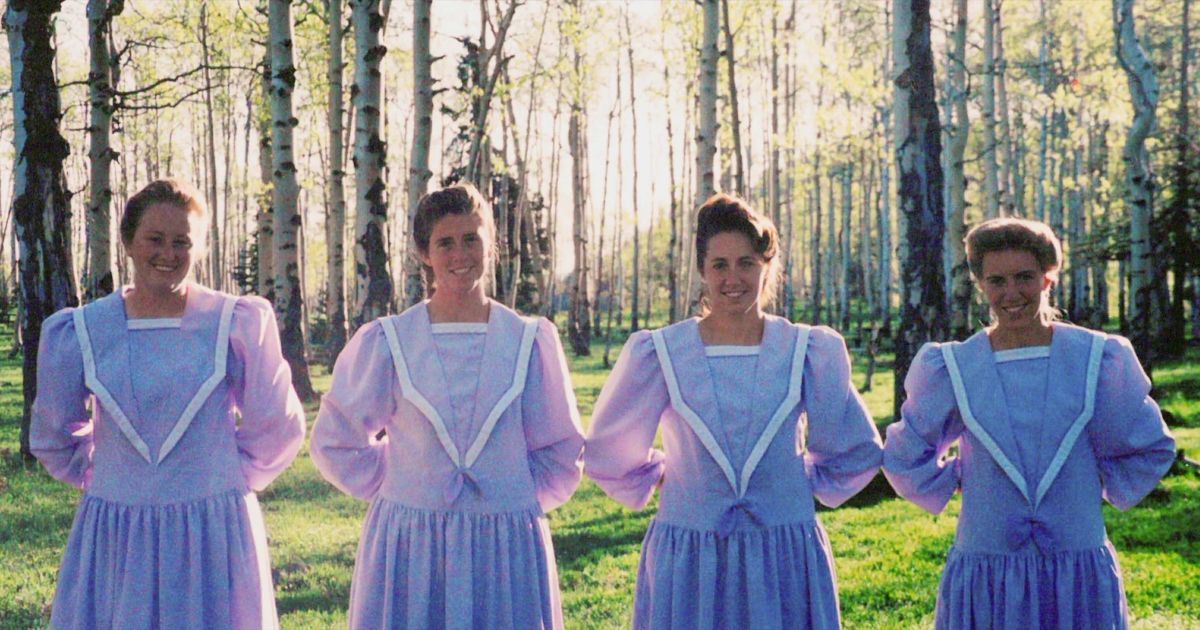 Prayer and obedience brings true crime into the church
Keep sweet: pray and obey shocked audiences when it was released by Netflix on June 8, 2022. The documentary miniseries, directed by Rachel Dretzin, discusses the cult religion that is the Fundamentalist Church of Jesus Christ of Latter-day Saints (FLDS), a fundamentalist Mormon denomination whose members practiced polygamy, and the rise of its current leader, Warren Jeffs.
While the semi-fictional Under the banner of heaven on Hulu describes similar problems, Keep sweet: pray and obey documents these events with unflinching authenticity as Dretzin interviews survivors who tell the horrific tales of forced polygamy, arranged marriages, child brides, and their miraculous escapes.
Rulon Jeffs and the FLDS in Keep Sweet
Keep sweet: pray and obey begins by introducing you to life in the FLDS under Rulon Jeffs. Rulon Jeffs, known to his supporters as Uncle Rulon, served as President of the FLDS from 1986 until his death in 2002. Under his rule, the FLDS practiced polygamy and became a patriarchal system that modern Mormons find "embarrassing" about Mormonism. As President, Rulon was considered the "prophet" believed to have a direct connection to God and the only one who could dictate God's will.
Wallace Jeffs, a former member, describes how under his father's rule it was believed that the only way for a man to attain the "highest degree of the kingdom of heaven" was to have three wives while he was on earth lived. Rulon's followers believed that he would never die and that he knew everything. The Prophet was the only person who could arrange a marriage, and families should present their daughters to Rulon when they were of marriageable age.
In the documentary, Rebecca Musser, an FLDS survivor and former wife of Rulon, said they were taught to believe that they were the "one true people of God." As Musser talks about her marriage to Rulon and the horrors she endured as one of his many wives, Dretzin cleverly slides in photos of Musser's marriage to the Prophet. Musser was just 19 when she married the 85-year-old leader and describes how naïve she was about everything.
Related: The best movies with religious themes
Women were kept in isolation and raised to submit to their priesthood (the family's patriarchal flagship) with the Rulon coined phrase "Keep sweet, pray and obey." This was used to show how women should behave in their marriage and always be in control of their emotions. The mantra was frequently chanted aloud, and verses such as "Women, submit to your husbands as to the Lord" (Ephesians 5:22) were repeated.
The Submission of Women in Keep Sweet
Warren Jeffs was the son of Rulon and the older half brother of Wallace. Wallace claimed Warren had a "holier than you" attitude and was put on a pedestal by his father. Musser said of Warren, "I don't think he was liked very much. He was the clumsy son of a man of power." She continued, "Compared to his brothers, he was nothing special." When Dretzin asked if Musser knew what would become of him if she met him, Musser said simply , Warren understood what people wanted and knew how to manipulate them.
Warren vigorously exercised his authority as principal of the FLDS Alta Academy, creating teachings specifically for women. Under Rulon and then later Warren's reign, Keep sweet: pray and obey shows how determined the FLDS was to keep their wives obedient. Survivor Elissa Wall, Musser's sister, says in the documentary:
"Warren had a saying, 'Perfect obedience is guided by a hair,' meaning a hair is so thin, and true obedience means being guided by a hair and not breaking it. So there could be absolutely no resistance to that obedience, because any resistance would make those hairs snap."
Through several interviews with survivors, the film explains how women were taught to think of nothing but the will of the Prophet. They were specifically told not to think about boys or to have crushes as it would "clogg" the "channel" to the Prophet. By this point, Warren was already beginning his extreme nurturing efforts, and the documentary emphasizes how faith-blinded FLDS supporters were.
See Also: These 5 Movies Sparked Religious Controversy
After Rulon suffered a massive stroke, Warren saw his chance and followed in his father's footsteps. It was at this time that Warren's teachings began to grow murky as he began to speak of an approaching Judgment Day. During the interview with Wall, she said they were taught, "If you didn't subscribe to the FLDS belief system, it would be wiped off the face of the earth so that it would be clean and pure for the righteous." Warren was able to convince the entire community to move their homes to sell, go out of business and move to Short Creek, Utah. When the rapture didn't come, Warren said it was a gift from God to be more perfect. "We were never good enough," Wall said when discussing the experience.
The case of Warren Jeffs
Under Warren's reign, which began after Rulon's death in 2002, the FLDS truly became a cult. Warren began kicking out boys and removing those in power who questioned him. He would rob these men of their wives and children and would not coerce them into anything. He enforced certain hairstyles and clothing for women that included long underwear and no color red.
During this period, underage marriages became the norm. Wall discusses the horrors of traveling across state lines and being forced to marry her first cousin. Dretzin interrupts Wall's interview with Mussers as Musser describes how hard it was to even think about leaving the FLDS, which very few people ever do. They knew that leaving would cause their family to avoid them and were taught that leaving would "seal you to damnation".
It wasn't until Warren began building his Texas estate that his world fell apart. Reporters began scrutinizing Warren and his movements as Warren transitioned from underage marriages, which he conducted, to outright abdications of children. Wall, who had fled the church at the time, decided to work with prosecutors to bring charges against Warren, and in 2006 he was placed on the FBI's Most Wanted List.
Most people remember Warren's 2006 arrest and the traumatic process that followed, but like any good crime documentary, Keep sweet: pray and obey does not shy away from the raw and honest truth. The emotional testimonies of the survivors give audiences a real insight into how the FLDS brainwashed an entire community. Keep sweet: pray and obey shows the audience how dangerous pathetic fundamentalism can become, how difficult it was for these survivors to escape their prison, and the strength it took to defy the odds to drive out a monster. Keep sweet: pray and obey will continue to be streamed Netflix.