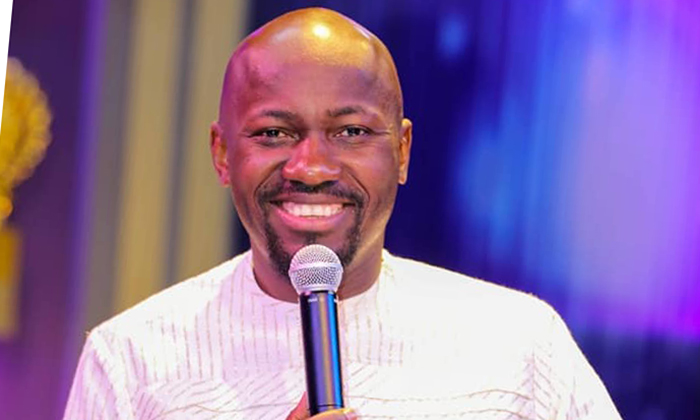 Nigeria's Johnson Suleman revisits Uganda
Apostle Johnson Suleman. WITH KIND PHOTO.
---
By Male Marvin
Renowned Nigerian Apostle Johnson Suleman is scheduled to visit Uganda on September 5-6, 2022 for a two-day crusade code-named "Mighty Turnaround" at the UMA Multipurpose Hall in Lugogo – Kampala.
The Senior Pastor and General Overseer of Omega Fire Ministries International has visited several districts around the world in recent months including Kenya where he held a campaign in March 2022.
In his biography published on the ministry's official website Apostle Johnson Suleman explains that his desire for ministry began with a passion for souls that he says "was insatiable from birth."
After serving as Associate Pastor at Armor of God Church in Lagos, Nigeria in 1998, he founded Omega Fire Ministries in 2004 as part of his goal of recruiting 5 billion souls to the Kingdom.
His church is headquartered in Auchi, Edo State, and has branches in numerous countries around the world.
The 51-year-old TV preacher started later fixed television bringing the gospel into the homes, schools, offices and businesses of millions of people around the world.
He was also recently featured on the TBN Africa platform.
"Having a passion for souls would make winning souls the main business of our lives, which is one of the things Christians live for, since Scripture categorically states that 'he who wins souls is wise,'" he says.
The Apostle explained that Pastor Adeboye and the late Archbishop Bendonn Idahosa were his mentors.
He has a wife named Lizzie Suleman and they have five children: a son and four daughters.
In addition to serving in the Church, Apostle Johnson Suleman is reportedly CEO of Hossana Oil and Gas and has other businesses including printing, real estate, several schools, hotels and resorts, a television station, and a water bottling company.
prayer
On his last visit to Uganda in 2018 Apostle Johnson Suleman warned those who see "prayer as a commercial enterprise," noting that many believers today come to prayer meetings only when they urgently need something from God.
"There are certain mountains that will never go down unless you commit yourself," he said, encouraging believers to embrace prayer as a personal lifestyle.
Watch the full sermon below: