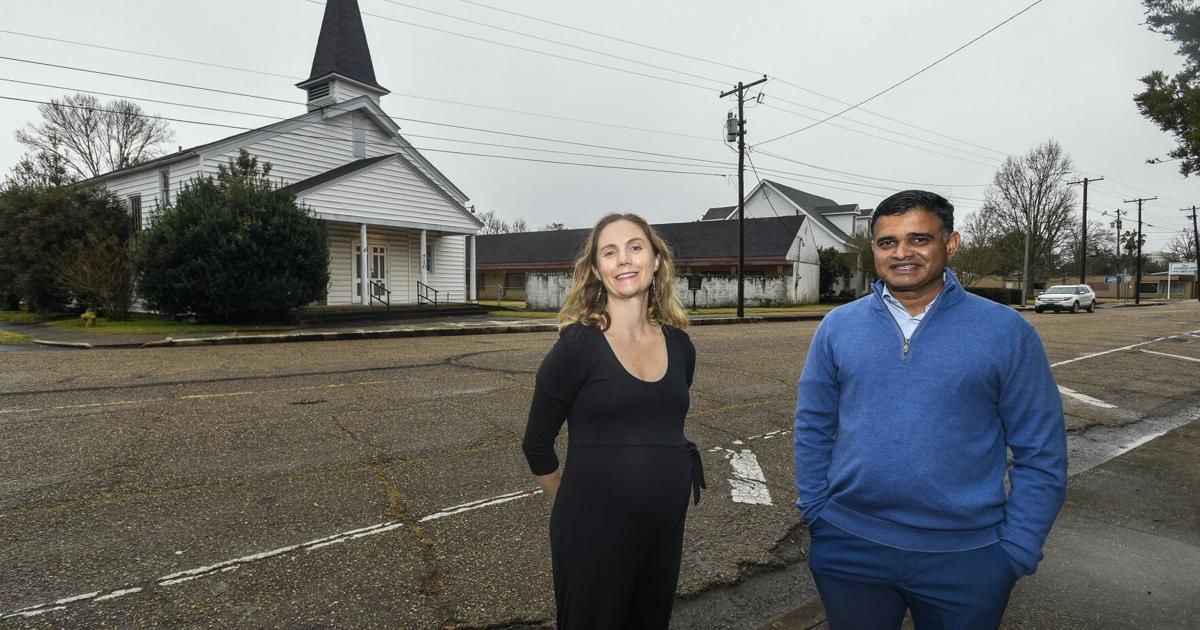 Meet Developer Ravi Daggula Making A Fast Impact In Downtown Lafayette | shop
Ravi Daggula keeps a list.
If you've had a bad break lately and he finds out, congratulations. You made the list. He can call you regularly. Or remind you that your circumstances are not as bad as they seem. Often he finds a way to help.
Vera Nagy ended up on his list. A small business owner from Opelousas, who has also been buying downtown real estate there for about 30 years, was working at Bodemuller's old print shop on Bellvue Street when one day she discovered that the city had posted a code violation on the door. It was a disheartening blow, she admitted, and she felt left out because other buildings nearby were crumbling and didn't have the same stickers on their doors.
But then a mutual friend linked them to Daggula. They met one morning at his bed and breakfast, Mouton Plantation, in Lafayette. He had such a calm presence, she reminded herself, and he advised her not to take it personally. This person enforcing the code, he said, took all of his energy.
Daggula brought them together with his architects and the project is back on track. Now the two are discussing opportunities to work together on a major project in downtown Opelousas: the old federal building, which they envision as an events center.
"Ravi was – if you want to write anything in the paper – he was an angel to me," Nagy said. "I'm still pretty impressed. I usually help people. I'm on the phone and something happens. I never call for myself. Suddenly I don't have to make phone calls for myself and this guy Ravi wants to meet me and help me? It just blew me away."
Known for years as the owner of the Mouton Plantation, Daggula is now working with investors to purchase land in Lafayette and use it as a vehicle to help others while promoting economic development. He and investors have purchased several abandoned or underutilized properties in recent weeks, including the old House of Faith Full Gospel Church at 710 Jefferson Blvd. that he is leasing Basin Arts for what he said only covers the monthly debt on the building.
In the development world, there's a term for what Daggula does: impact investing. According to Monique Boulet, CEO of the Acadiana Planning Commission, it's about investing in areas that have built-in demand, areas that not only yield good returns but also inspire community revitalization and involve a sense of social responsibility.
"If you think about it, if you look at the north side, it's a food desert," she said. "If you invest in a grocery store, you're going to make money because there's a huge demand for groceries. Demand is built in.
"It is this catalytic impact investment that Ravi is making that is critical to rebuilding our downtown area and our city. I think he's one of our first examples of how we can move to the community and build our community, and not just from a personal profit perspective. He's not doing it for charity, but he's doing it in a really good way."
This list that Daggula has? It can also be said to have properties. Many more, including a large one downtown that he hopes to buy. He's also in love with a famous plantation home in Iberville Parish.
One day, he said, he will return to his native India and leave the city he has called home since he came here for college some 20 years ago. He is a big believer in mentoring and empowerment. He struck a deal last week for someone to teach etiquette once a week at Lafayette Middle School.
"At the end of the day – and this is very important – do you want your colleagues and everyone you know to remember you as a friend?" said Daggula. "Or do you want them to remember you through your work? I'm very serious. I want them to remember me through my work. I want to do as much as possible in the next five years."
how it started
Daggula's story has a fairytale beginning. His father was a chicken farmer. His mother, a housewife. Still, he and his two siblings ended up in the US for college: his sister at NYU, his brother at Clemson.
He ended up at the University of Louisiana at Lafayette and got a job with Neal Patel at the Quality Inn Hotel just off the Evangeline Thruway. The job didn't pay much – part of his daily earnings went towards taxi rides to and from work – and learned the hospitality trade.
He chose to stay in Lafayette after graduation while his friends left for larger paychecks. His first job was system administrator at the Vermilion Parish Library. The work often extended into the late evening hours, which led to delays the next morning. He remembered how often his boss would stand in front of his desk and wait for him to come to work. He quit after less than a year.
Other tech jobs followed, and the local Indian community, he said, helped him significantly. He later bought convenience stores in Ruston and Monroe. But it was 2015 when he got involved in real estate and bought Mouton Plantation. It wasn't until about a year later, after meeting with Stephen Ortego, a Lafayette-based architect and developer, that he saw the potential in downtown Lafayette.
"I used to send my people downtown, and they'd come back and be like, 'You're downtown? There's nothing,'" Daggula said. "Stephen is the man who taught me about downtown and what downtown means. He doesn't think like average people, where is the parking lot? He kind of opened my eyes."
How it is going
Daggula is good at motivating people to invest, Ortego said. Daggula and his group of investors, a handful of doctors, made the first big splash when they bought the old Dat Dog building on the edge of downtown for $1.645 million, and there are plans to split it into three sections with a restaurant in front First floor, a lounge to the rear and commercial space upstairs.
Just recently, the group paid $1.8 million for smaller properties outside of downtown near UL, but it expects to strike a deal to purchase the Buchanan Lofts, 403 S. Buchanan St., and hopes to earn a 45,000 Square-foot building nearby that "might go through, it might not go through," he said, that would be converted into a medical facility.
Daggula says he now firmly believes in downtown and has been involved in discussions with the Lafayette Consolidated Government about downtown improvements.
"He's seen LCG throw their money in and put money into investments and infrastructure," said Anita Begnaud, CEO of the Downtown Development Authority. "He could sit down and say, 'The public is investing. Now it's time for us to invest too." I think he really gets it. He is passionate about downtown and how important it is to Lafayette and the Acadiana region."
The moves to the city center would only further increase the energy level there. The area made significant strides as the number of vacant retail spaces along Jefferson Street dropped to just a handful. Some of the projects Daggula is looking at would have a positive impact on downtown growth, said real estate agent Setareh Mirian-Delcambre, who also owns downtown real estate with her husband.
"Everyone is looking forward to this year downtown," she said. "There's a lot of work to do. I think (Daggula) can do some really great things. A lot of people worked really hard behind the scenes. We have a lot of retail stores popping up that we're all happy to support, but we need more."