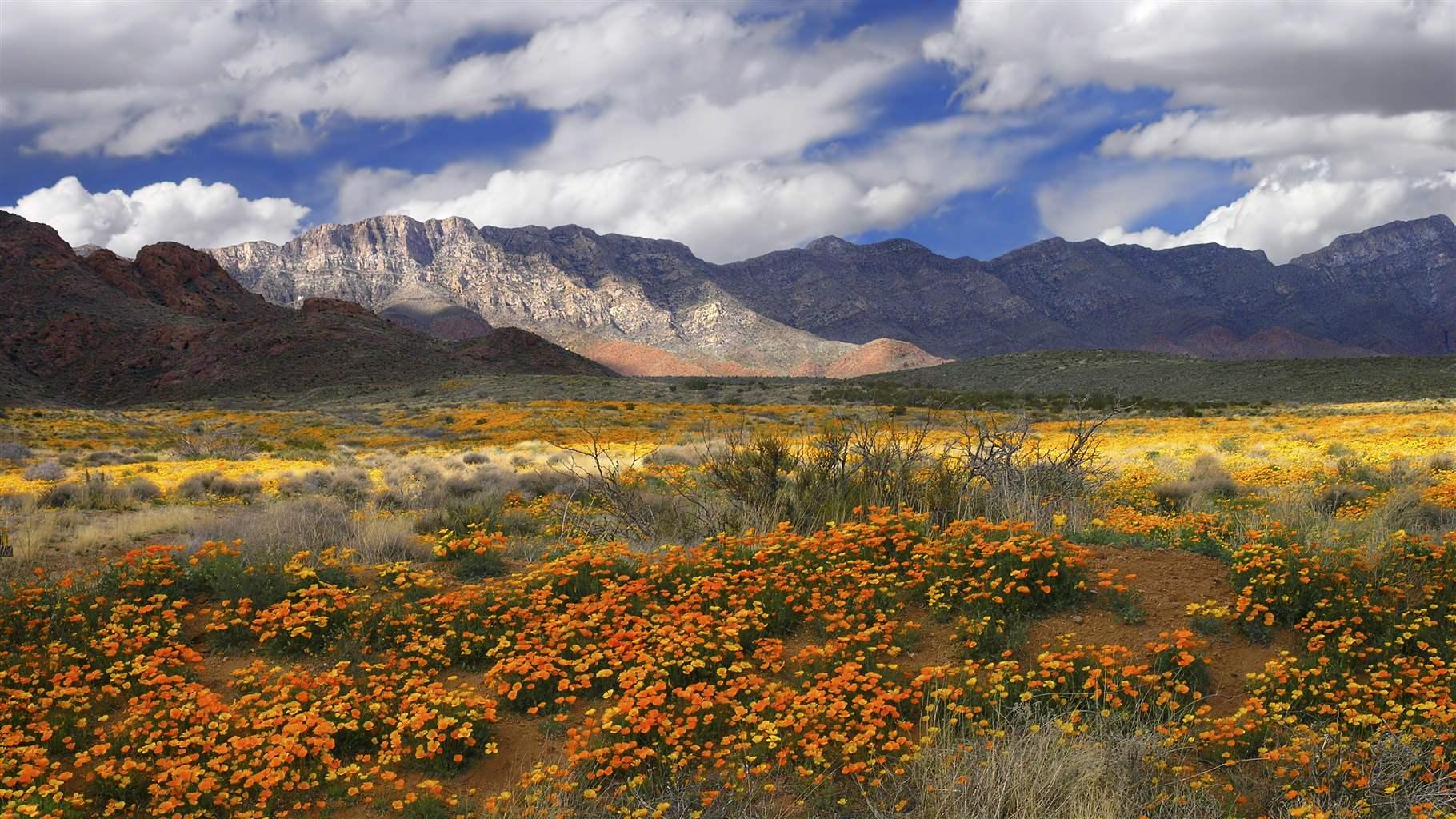 In El Paso, locals want Cherished Mountains to have national monument status
Rising above El Paso in western Texas, the Franklin Mountains are of cultural and historical importance to the surrounding communities, with archaeological resources such as rock art, stone foundations, and bedrock mortars used to grind grain and other foods. The mountains also provide environmental and economic value by preserving vital water resources and providing habitat for rare and endangered wildlife of the Chihuahuan Desert, along with myriad outdoor recreation opportunities. Today, two-thirds of the mountains are protected as Franklin Mountains State Park, but the rest — known simply as the Castner Range — remains unprotected.
For more than 50 years, local community members at all levels of government have worked to preserve this range and make the lands accessible for recreational and cultural purposes. Now a diverse group of supporters — including elected local officials, Indigenous leaders, veterans, business owners, faith leaders and community groups — are calling on President Joe Biden to designate this approximately 7,000-acre area as Castner Range National Monument. Aside from securing the above benefits, designating national monuments would promote environmental justice and encourage equal access to nature. It would also help address climate change — protected natural areas sequester and store more carbon than built-up areas — and allow the country to continue collecting and filtering rainfall that local communities depend on for drinking water.
Protecting the Castner Range as a national monument would also facilitate important cultural and ecological landscape links for the world's largest binational, or transboundary, community — more than 2 million people with more than 25 million annual crossings between El Paso and the neighboring Mexican city, Ciudad Juárez.
And the designation would also protect cultural sites and practices dating back 10,000 years, increase representation of Latino heritage sites in US protected areas, and honor the country's military heritage.
During the last century the Castner Range has been used for military training. Although this has subsided, some Range lands are still part of Fort Bliss and remain closed to the public. Other parts of the Castner Range have been included in various proposed development plans that would threaten the range's natural, cultural and economic value.
The community's proposed historic designation would transfer the area to the Federal Bureau of Land Management and effect landscape restoration and conservation, which in turn would benefit wildlife, preserve cultural assets, boost the outdoor recreation economy, and protect open spaces. with the associated health benefits for those living in the developed areas of the region.
In February of this year, eight senior retired military officers sent a letter to President Biden asking him to designate Castner as a national monument. They wrote: "This move would ensure that military and cultural heritage sites, endangered species, scientific and environmental wonders and an awe-inspiring landscape are permanently protected. Additionally, designating the Castner Range as a national monument would… particularly benefit marginalized communities [I]indigenous and Latin American peoples. These communities have been paramount to the success of our military, but disproportionately bear the brunt of climate impacts and traditionally have less access to nature" than US whites
Preserving the Castner Range is also an investment in El Paso's economy, as the designation of national monuments has been shown to boost local economies and job creation in the West. As noted by Rose Ortega, vice president of the Northeast Business Alliance, in an opinion piece in the El Paso times, a 2018 study found that Southern New Mexico's Organ Mountains-Desert Peaks National Monument helped the local economy there by $1.7 million in spending and more than $500,000 in spending the previous year to boost wages related to monument visitors. "The continued preservation of the Castner Range for the public is about more than conservation," Ortega wrote. "Casner's case boils down to dollars and cents, too."
Moses Borjas, senior pastor of the Living Covenant Church in El Paso, believes it is important to leave a natural legacy for future generations. He shared his thoughts in his own opinion piece in January El Paso times, in which he wrote: "A small step like protecting the Castner Range can make a big impact. It's like a mustard seed that looks so small but can grow into a big tree where birds nest and lay their eggs and families come to enjoy the shade."
The broad group supporting the designation of Castner Range National Monument represents diverse interests. But supporters agree that these mountains are an integral part of both their community's history and future and deserve federal protection.
John Seebach is Project Director and Jackie Feinberg is Lead Counsel for The Pew Charitable Trusts' US Public Land and River Conservation Project.