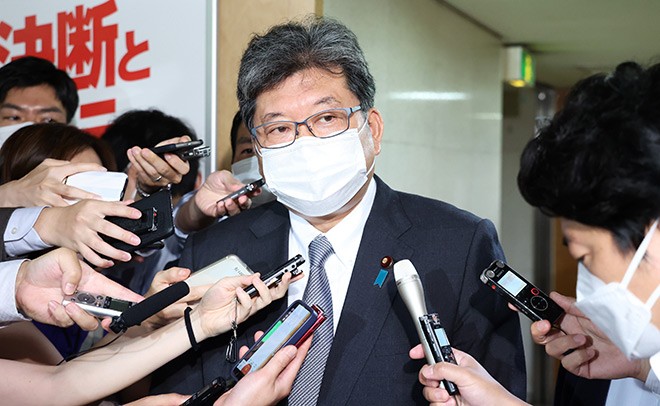 Hagiuda indicates that he knew he was at a Unification Church event
The new leader of the ruling Liberal Democratic Party's Policy Research Council knew he was at a meeting of the Unification Church-affiliated organization ahead of the July 10 House of Lords election.
"I went to the place, aware that I was attending a meeting of women's members's Federation for World Peace, but I don't think (Akiko) Ikuina knew that," Koichi Hagiuda told reporters at the LDP headquarters in Tokyo on August 18, referring to the associated organization of the Unification Church.
The then Economics Minister Hagiuda visited a Establishment of the Unification Church – now officially known as the Family Federation for World Peace and Unification – in Hachioji, west Tokyo, with House of Lords candidate Ikuina on June 18, four days before the start of the election campaign.
Ikuina won a seat in the Tokyo constituency in the upper house elections.
The facility, called the Hachioji Family Church, is located in Hagiuda's constituency in Hachioji.
It has multiple entrances, but next to the front door is the name "The Family Federation for World Peace and Unification – The Hachioji Family Church".
Hagiuda told reporters that his association with the WFWP came about only because some of his supporters were members in his constituency.
However, he admitted to maintaining his relationship with the group despite being aware of their possible association with the Unification Church.
"The names (of the WFWP and the Family Federation for World Peace and Unification) are very similar, but I didn't take the time to ask," he told reporters.
In addition, it was discovered on August 18 that Hagiuda continually funded organizations associated with the Unification Church.
He paid 90,000 yen (US$660) as a fee to the WFWP and other organizations believed to be affiliated with it.
He did this six times from 2012 to 2019 through a fund management organization called the Hagiuda Koichi Supporters' Association and a local LDP branch.
When asked about these expenses, Hagiuda said: "I have to some extent sympathized with and supported the activities (of the WFWP). I heard there was going to be a charity party to support volunteers, so I paid to attend (the party)."
Ikuina stressed that she was unaware she was visiting a Unification Church facility when speaking separately to reporters at LDP headquarters on August 18.
She said it "was really quite recently" that she found out.
Ikuina explained that she became aware that she had visited the Unification Church facility after following Prime Minister Fumio Kishida's order for LDP lawmakers to review their ties to the organization.
Hagiuda had stressed that he had little relationship with the Unification Church.
Upon revealing that he gave an opening address at the organization's October 2014 event, Hagiuda said at an Aug. 2 news conference, "It's not that I have a relationship (with the Unification Church), although I know who they are. As far as I know, among the people in my district there might be people who are connected (to the Unification Church)."