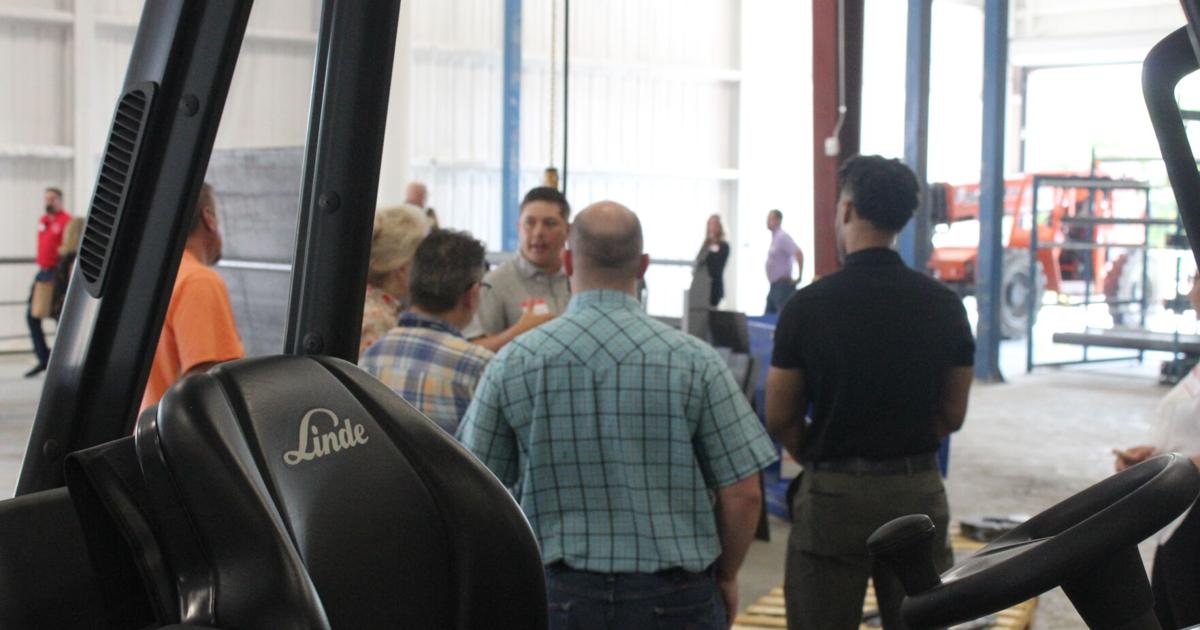 Easdon: Cleburne's economic outlook looks strong and resilient | local news
Inflation, fuel costs and other factors are a concern, said Grady Easdon, Cleburne's director of economic development, but for now Cleburne's economic prospects appear strong and promising.
Easdon provided an economic update during Tuesday's Cleburne City Council meeting.
Easdon highlighted a number of businesses that have recently opened, are about to open or are in the process of expansion.
For example, Orthman Conveying Systems recently completed a 30,000 square foot addition. Easdon and other officials recently toured the newly renovated facility.
"It's now complete and fully operational," said Easdon. "They are almost fully staffed with about 50 employees paying above-market wages and a few high-skill jobs brought to Cleburne."
Demolition work on Robinson and Wardville streets is a former church on land now owned by Hill College, Easdon said. Although the college is yet to announce plans for the site, it will undoubtedly be used for additional classrooms, Easdon said.
Construction of Scooter's Coffee on North Main Street is underway, Easdon added, and the cafe is set to open in the near future.
Gelati's Ice Cream Parlor is opening soon at 204 S. Main Street downtown.
"With supply chain issues, owners struggled with the materials and equipment they needed," said Easdon. "But it's coming together and we're really excited about that opening soon."
Commercial and industrial building permits continue to rise and Cleburne's business prospects remain good, Easdon said.
Despite rising interest rates, the number of permits granted for new residential construction is also increasing.
The median listing price for a home is $335,000 versus $295,000 last June and the median selling price is $322,000 versus $257,000 in June 2021.
Easdon tempered such good news with caution.
"While housing permits are still above the pace of last year, they are showing signs of a slight slowdown due to rising interest rates, ongoing labor shortages, challenges in sourcing materials, high fuel costs and general uncertainty about where the economy might be headed," Easdon said.
More rate hikes are forecast, Easdon said, to try to curb inflation.
Just like the revenue from sales tax. The city's sales tax revenue in May was 16.21 percent higher than in the same period last year.
Unemployment rates also continue to improve.
Cleburne's current rate is 3.1 percent, compared to 3.3 percent last quarter. Johnson County's rate fell to 3.2 percent from 3.3 percent during the same period. Nationwide, the rate fell from 3.9 percent to 3.8 percent.
For now, Easdon concluded, sales tax receipts and new development continue on positive trends and city leaders continue to take calls from property developers and business developers interested in Cleburne.
emergency water repair
Council members approved $101,723 in emergency water repairs paid to Thompson Pipe.
Pantheon Construction, a utility owned by Atmos Energy, struck a marked city water main Saturday while working to install gas lines, said Jeremy Hutt, Cleburne director of public works.
Her action penetrated a 16-inch concrete cylinder pipe that serves as the main transmission line for city water distribution.
City officials immediately began repairing the damage, Hutt said.
"Due to the extent of the damage and the nature of the pipe material, third-party resources and equipment were required to complete the repairs," Hutt said. "Staff were able to use the services of Thompson Pipe, a third party who can do these types of emergency repairs on concrete cylinder tubing."
Special equipment and other steps were required to complete the repairs, which took about 36 hours.
"These expenses were necessary to maintain our water distribution systems, comply with the requirements of the Texas Commission on Environmental Quality, and avoid potential system-wide water outages," said Hutt.
The city will seek reimbursement from Pantheon Construction for all damage and repair costs, Hutt added.