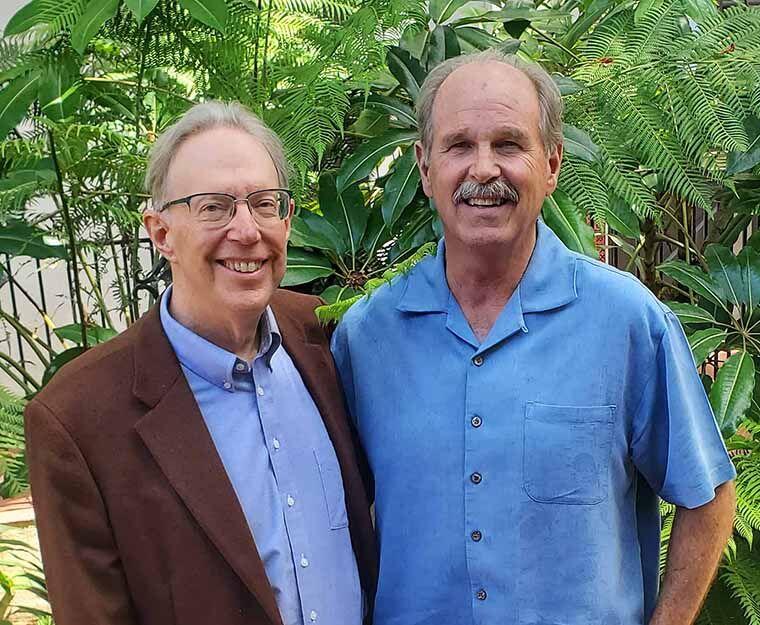 Coronado Community Church Announces New Pastor | Coronado Island News
The term "church without a building" is not uncommon in Coronado. At the last count there were four such non-denominational places of worship on the island. Perhaps the best known is the Coronado Community Church (CCC), which met weekly in the cafeteria and auditorium of the Coronado Village Elementary School prior to Covid.
Pastor Steve Mather has been a resident of the CCC since 2005, replacing Pastor Tom Warmer. Now, after 16 years, Mather is retiring. In his place is Pastor Eric Smith, another old Coronado soul.
Mather was born here and graduated from Coronado High School in 1967. His ministerial duties took him across the country before returning to Coronado.
Both of Smith's parents were Navy. He joined Coronado in 1959 and graduated from CHS in 1972. For him, too, this is a kind of homecoming and a magical pairing in every way.
Mather, son of the late Coronado real estate icon Lee Mather, became an ordained Presbyterian and served as assistant pastor at the Graham Memorial from 1974-77. He then accepted positions in various churches in San Diego, Tucson and Fox Chase, Philadelphia, before accepting the position of pastor in an Anaheim church.
During his long pastoral ministry, Mather was embroiled in ecclesiastical upheavals and divisions. What he learned made him very effective at times at bringing order to chaos.
During a visit to Coronado, he attended the CCC and was asked by Pastor Tom Warmer to consider his successor. Warmer considered retirement after nearly half a century of preaching.
Warmer was a pastor of the Coronado Methodist Church. However, a disagreement with the Methodist bishop led him to leave this church. Half of his ward went with him. This became the origin of the Coronado Community Church.
In fact, the CCC has developed into a very friendly church, with a great choir, Sunday school and extremely exciting sermons that were just short of fire and brimstone. Mather was delighted. He was at home.
"People long to hear from the pastor how they identify with the struggles they are facing in their faith," he said. "I did that. I talked about my own doubts, my own beliefs. Gosh, I would never have done that 20 years ago.
"In retrospect, I think I had more fun in this church than in the last half century. Here at CCC, the people are the church. We don't have a building in our way. We are not jealous of the church steeple. "
Mather enjoyed physically engaging his audience in sermons. Leaving the pulpit, he went down the steps and through the meeting to include them in the teaching. Nobody slept during Mather's sermons.
"The sermons were provocative, I thought. But that's something I did to get people to invest in, to mobilize the group, "he said. "Obviously, switching to Zoom stopped much of the progress we had made.
In fact, Steve Mather remains passionate about this church and this fellowship. "I keep telling people that you don't own this church. This is not your church. Jesus owns this church. It is his church, and that does not mean that there are no surprises or unexpected twists and turns. "
Mather spoke eloquently and optimistically about his successor. "However the CCC changes, or the route it might take, I think Reverend Eric is the pioneer for that. He has so much wisdom, energy and passion. I am very excited about this church and this community and what they will experience in the years to come.
"It is no accident that he came to our church. I think the Spirit brings all of these together, and I have no doubt that this church will adapt, be successful, and flourish under His guidance. It may be different from my time, but it will be very, very good. "
Steve Mather will continue to serve as Pastor Emeritus at the CCC, giving occasional sermons.
Eric Smith is no stranger to the pulpit. He served Methodist churches for 40 years and retired from active denomination status this summer. In his career he has cared for seven churches with a size of 100 to 1,300 members. His last ward was St. Andrew's By-the-Sea in San Clemente.
Smith also worked in the Department of Prison for several years. "Going to jail to spend time with men who are incarcerated without hope, often serving life sentences, has been a powerful experience of God's grace. It has a profound impact on me, "he said.
"Coronado is my home," said the tall preacher with a big smile on his face. He stands well over six feet. "Coronado is the reason I am. I grew up, loved and nourished on this island.
"I've been given so much, by so many, that it has always been my dream to come back and give something back to this community. When the Coronado Community Church approached me, there was a whole that struck me immediately. "
Ironically, Reverend Tom Warmer, Coronado Community Church's first pastor, served as Smith's mentor all those years ago. "What a gift to anticipate the Church you will start," said Smith. "This is a new and exciting chapter of ministry in my life. It is a pleasure to imagine leading this church. "
Reverend Eric Smith is married to Karen, his life and service partner. The Smiths have four grown children and four grandchildren.
A celebration in honor of Pastor Steve Mather and welcoming Pastor Eric Smith will be held on Sunday, July 4th at the First Church of Christ Scientist, 1123 Eighth Street. The service begins at lunchtime followed by lunch. Reservations are required by June 25th at [email protected]
Coronado Community Church usually meets on Sundays at 10 a.m. in the cafeteria and auditorium of the Coronado Village Elementary School. Physical services are expected to resume soon. Last year the pastor, choir and congregation met weekly on Zoom.
For more information, please contact Coronado Community Church, PO Box 181680, Coronado, CA 92178, or www.coronadocommunitychurch.org.