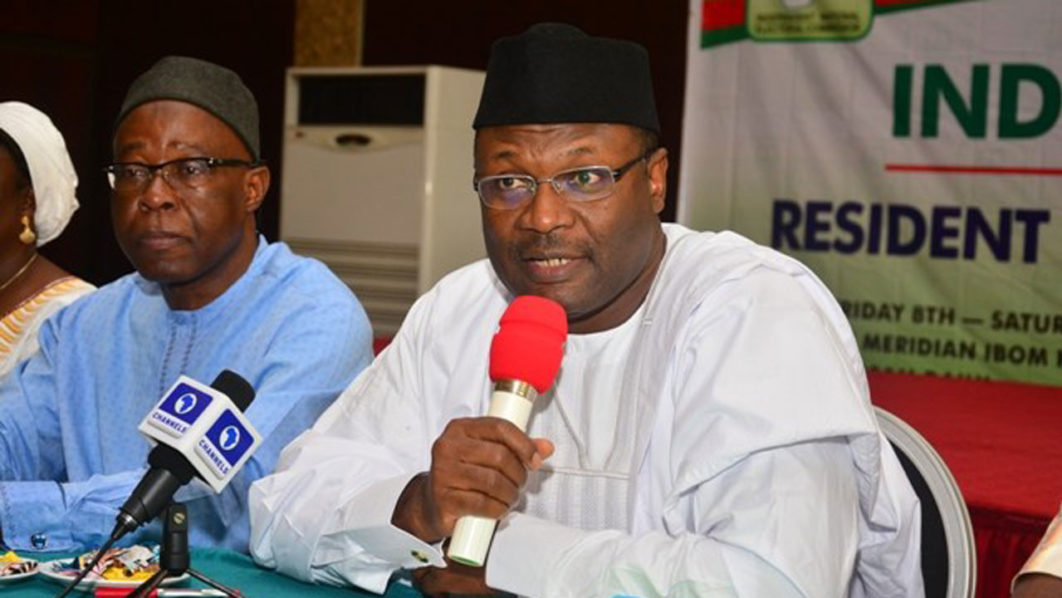 6 days to the INEC deadline, millions could miss registration
About six days before the 31 July deadline set by the Independent National Electoral Commission (INEC) to end Continuous Voters Registration (CVR), there are indications that many Nigerians may not be registering to use their Permanent Voters Card (PVC) to exercise their right to vote in the upcoming federal elections.
Also, as LEADERSHIP results revealed, the Commission may not achieve its target of registering 20 million Nigerians in the ongoing registration exercise, as previously announced.
Nigerians have also expressed frustration with the process as PVC registration equipment at INEC offices is inadequate given the large number of new registrants.
Registration difficulties aside, LEADERSHIP checks have revealed that desperate politicians, traditional rulers and religious leaders are now getting INEC CVR staff to register their followers in their private homes.
INEC staff were found to be paid N50,000 to N200,000 and in some cases field staff were paid N1,000 for each registration in Abuja.
I
In Kubwa under the FCT's Bwari area council, Abuja and suburbs such as Nyanya, Gwandara, One Man Village, Suleja and Madalla, among others, the registration officers in the designated INEC centers are mostly not readily available.
In Kubwa, the field worker spends a few hours at Kubwa Primary School before heading to the next highest bidder's houses.
For example, to take the INEC field worker to a residence, the community leaders must mobilize members of the community and get them to pay N2,000 each to get a good number of people before subsequently inviting the INEC workers over.
As a result, research also found that the churches, using their capacity and ambience, create an enabling environment for their members to register.
This enabling environment, according to one of the church leaders, is being created as part of corporate social responsibility, which aims to help members of the church take an active part in the upcoming elections.
In the state of Niger, officials have been found to rarely come to registration centers.
LEADERSHIP has found that there are always long lines waiting for INEC officials due to officials being late to registration centers, forcing those who have waited too long to offer, in most cases, money for registration to count.
"Most of us who were waiting for them on Monday were forced to offer cash because without it they are not willing to take care of us," one of those who recently registered told our correspondent in confidence.
In Uyo, checks revealed that the churches have started mass mobilizing their members to register.
In a Pentecostal church in the Mbiabong area of ​​the state capital Uyo, the service on Sunday was a mixed barbecue of sermons on the one hand and voter registration on the other.
On the church grounds, INEC officials were seen registering members before going to the service.
Emeka Samuel, a church worker, explained: "The exercise was deliberately organized to mobilize members, particularly those who had not previously registered or misplaced their PVCs, to receive a new one to avoid being disenfranchised.
"This election is very important, especially for Christians whose feelings and sensibilities seem insignificant in the context of the country," added Elder Patrick Effiong.
Urging Christians not to be caught off guard in next year's election, senior pastor James Inam Isaac of the Way of God Fellowship Mission lamented what he described as a clear case of injustice towards Christians in the country.
There are also unfounded allegations by INEC officials that they are blackmailing Delta State residents into registering for PVC, but cannot be.
What is paramount in the state is registration in prominent politicians' homes, where INEC officials are bought to register close associates and supporters of the politicians and their parties.
In Rivers State, the issue of extortion by INEC officials is an open secret.
As part of efforts to curb the fraudulent act, Department of State Services (DSS) officials recently arrested a security guard at the INEC office in the state's local Obio/Akpor governorate for allegedly blackmailing Nigerians seeking to obtain their PVCs.
In a chat with LEADERSHIP, Obo Effanga, INEC's state elections commissioner, confirmed the development and said a community youth leader in the same area had also been arrested for the same offence.
"There is a security officer from INEC in Obio/Akpor who was arrested by the DSS. They are still conducting their investigation and will prosecute him.
"After that we were able to catch a community member from that area who was also extorting money from people at the INEC center there. We handed him over to the police," Effanga said.
The REC argued that the majority of those involved in the extortion of people seeking to register for their permanent voter cards (PVCs) were not INEC officers.
He said: "INEC officials asking for tips before helping people register is not necessary at all. We've said it time and time again, if an employee asks for money, let us know.
"As I have explained to some people, there are some people who are not INEC officials involved in this. Let me explain: in this process we have two things that people can do; If you have not already registered, you will need to come to an INEC office or registration center to register so that we can fingerprint you and take photos of you.
"But in this time there are many other services that you can actually do at home. If you have a smartphone, you can go online and request a transfer for a new card, request a replacement for a damaged or lost card, or correct your name. You can do that without coming to an INEC office."
In Anambra State, it was Herculean for registrants to intend to register as more and more people flock in and out to register at the centers.
Two residents, Chijioke Okafor and Mike Ezenwunne, told LEADERSHIP yesterday that they were at INEC State Headquarters, Awka, for a few days to register but have not yet had to register because of the crowds.
"I came on Thursday at 7 a.m. but couldn't register. I also came on Friday, but I still had the same problem because many people came before me," Chijioke lamented.
Following allegations of extortion, Concerned Edo Citizens Forum organizer Comrade Roy Oribhabor has called on the Economic Financial Crime Commission (EFCC) to launch an investigation into the allegation.
He stressed that the electoral body is not a commercial entity that should be involved in such practices.
Oribhabor said such practices could undermine the integrity of the nation's electoral process and INEC as an institution.
He explained: "For me it is reprehensible if this blackmail or payment by politicians is found. INEC as an institution is not a source of income for them to raise money. It shows that they have derailed and it is an indictment of INEC's integrity.
"I hereby urge you to refrain from this and start investigating the matter for patriotic reasons as it may affect the future of Nigeria and our democracy." Our security agencies should step up the game."