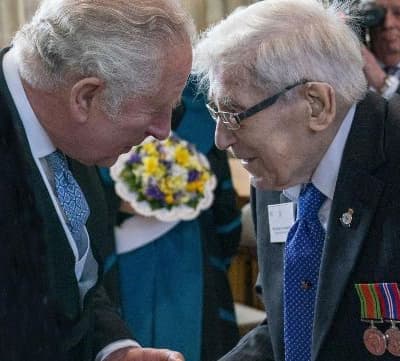 101-year RAF veteran recognized by Queen for years of service to the church community
A 101-YEAR-OLD RAF veteran from Alresford was among four Hampshire volunteers recognized by the Queen for their years of service to the church and society.
William "Sandy" Sanderson received a ceremonial coin from the Prince of Wales, who is representing the Queen at the Royal Maundy Service, on Thursday.
Maundy Thursday commemorates the Last Supper when Jesus washed the feet of His disciples and commanded them to "love one another".
The Queen marks the date by issuing special commemorative coins called Maundy Money, a tradition that dates back to the Middle Ages.
The money will be distributed to people who have made a significant contribution to their local community or church.
In 2022, 95 men and 95 women were honored, representing each year in the Queen's life.
That year the Prince of Wales and Duchess of Cornwall led the Royal Maundy Service at St George's Chapel in Windsor Castle.
William "Sandy" Sanderson joined the Royal Air Force in 1941 and spent most of the Second World War in West Africa performing essential repair work on aircraft engines.
He later worked as a maintenance engineer before joining a Christian missionary community focused on making literature available around the world.
During his time with the organization, Sandy has distributed Bibles and Christian books across the UK and as far away as Australia.
Presenting the award, Mr Sanderson said: "I am delighted to receive such an honor from the Queen.
"I have really enjoyed my work with CLC and with Christ Church.
"Working with them feels like being part of a family where people love you for just being yourself."